Professor Tim Kovachy Receives Prestigious Packard Fellowship
October 15, 2020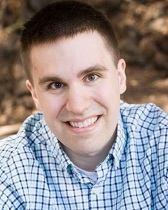 Congratulations to Professor Tim Kovachy for being selected as a Packard Fellow in 2020!

This award is one of the most prestigious available to junior faculty in the sciences and provides Tim with an unrestricted grant of $875,000 over five years to pursue innovative and experimental research. Only a total of twenty scientists and engineers are awarded this support from the Packard Foundation. Tim's proposal to develop atom interferometers to study fundamental physics is both exciting and highly original and serves as an excellent example of the work done in the Center for Fundamental Physics (CFP) directed by Gerald Gabrielse. "I appreciate that the Packard Foundation encourages high-risk, high-reward research that aims to make dramatic advances beyond the current state-of-the-art," said Kovachy, who joined the Department of Physics and Astronomy in 2018.

Continue to the full article on Northwestern Now.

Congratulations Tim!
Back to top