Illinois Space Grant Research Opportunity
Illinois Space Grant
Undergraduate Research Opportunities in Astronomy and Space Science
Funded by an educational grant awarded by NASA to Northwestern University through the Illinois Space Grant Consortium, Northwestern offers a College Summer Research Program for outstanding undergraduates. The program provides an opportunity for college students to work with a professor in one of several areas of space sciences and astrophysics. It is open to students who are currently in an undergraduate program in university or college.
Support of up to $8,000 is available to cover ten weeks of summer research. The exact period is flexible, but it should be between approximately June 15 and September 15.
All our projects here at Northwestern can provide the students with extensive computer experience with a variety of computing facilities on campus and/or via electronic access to several off-campus supercomputer centers. We also have projects that will provide laboratory experience.
Some of the areas of current research are:
Theoretical work on the physics of pulsars and black holes in the centers of galaxies
Modeling of extrasolar planetary systems
Supercomputer simulations of sources of gravitational waves
Radio maps of the Galactic Center and star formation regions
Optical observations related to the study of the cosmic microwave background and the intergalactic gas
Gamma-ray observations of high energy phenomena near black holes and neutron stars
Laboratory work to develop mirrors which can reflect X-rays
Observations of interstellar magnetic fields
Development of astronomical instruments for infrared and submillimeter wavelengths.
Application Instructions – Deadline:  March 22, 2024
Applicants should submit the following information and documents. The first three in one email with Subject Line: ISGC – (your last name)  and the last one sent separately by the letter writer with this subject line: ISG- Letter for (your last name)
Contact information including telephone, email and postal address
Your "unofficial" transcript
 1-2 page letter of interest describing your interests and science-related experience outside the formal college program, and
Letter of recommendation
Email to: phys-astro.business.office@northwestern.edu
Email submission only
We strongly encourage those who are eligible to apply for a Northwestern-funded summer research grant as this will allow us to spread our funds to more students.
Students from other institutions are encouraged apply for supplemental funding from Northwestern's Summer Research Opportunity Program (SROP).
ISG at NU is an equal opportunity educational fellowship grant. We celebrate diversity and are committed to creating an inclusive environment for all employees.
This award opportunity is contingent upon the renewal of the grant.
---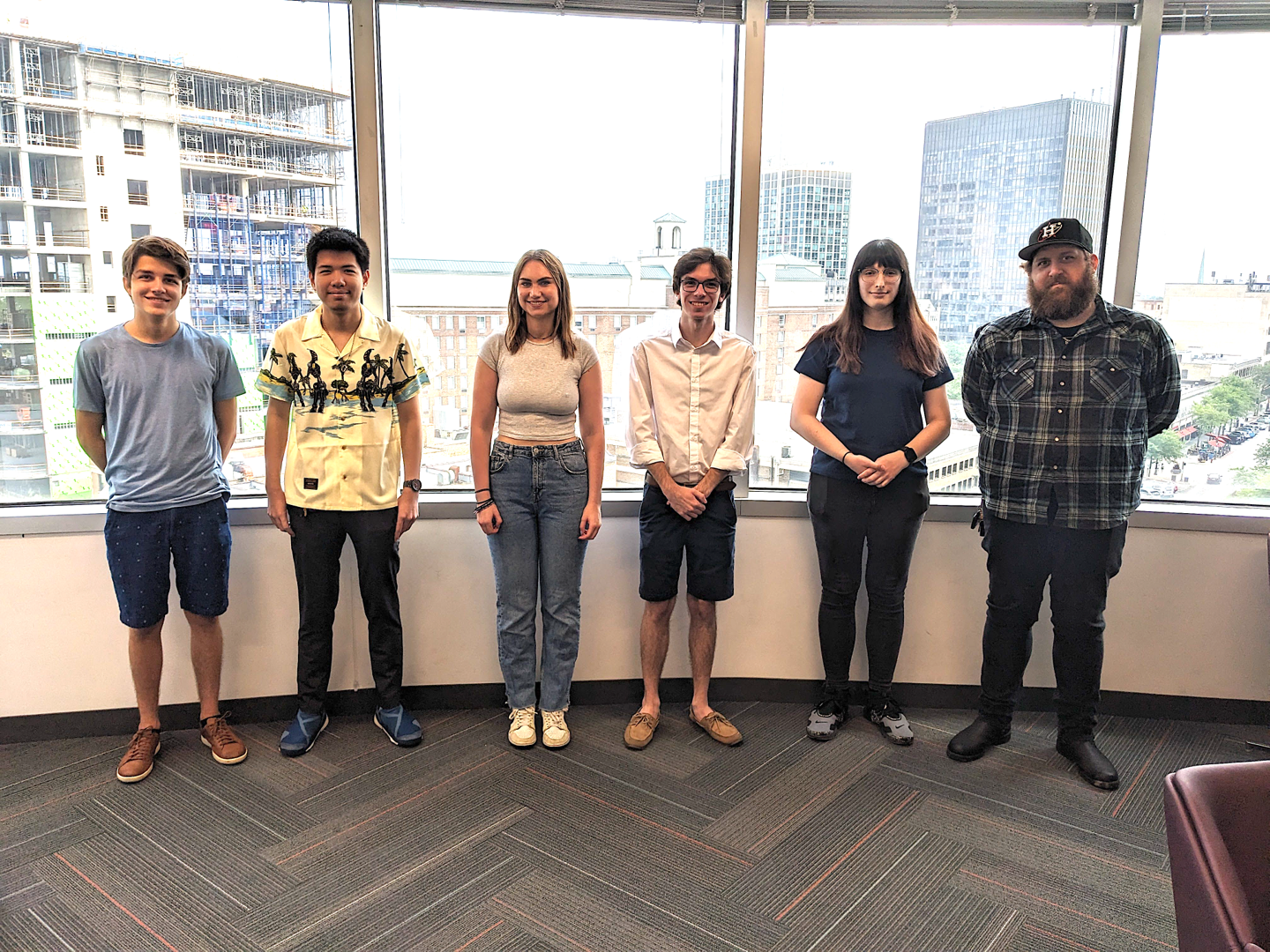 2023's cohort
From L to R: Leka Davis (NU), Seca  Widyatmodjo, (NU)  Madd Vivona (NU), Charles Gibson (Allegheny College), Claire Zwicker (IIT) Trevin COX (IIT)