Mayda Velasco elected to the Governing Board of the University of Puerto Rico
October 13, 2020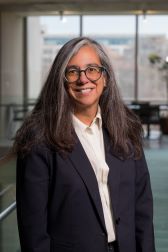 Physics and Astronomy Professor Mayda Velasco has been elected to the Governing Board of the University of Puerto Rico.

The Governor of Puerto Rico, Wanda Vazquez Garced, nominated Mayda a few weeks ago. On Monday, October 5th, the Senate confirmed Mayda in this elected position. "This is a great honor and opportunity to have an impact on both the short term and the long term," Mayda said.
The University of Puerto Rico (UPR) serves over 57,000 students and consists of eleven campuses. In 2014, the annual budget was $1.52 billion. UPR has 32 doctorate programs and is classified as an R2 (high research activity) university.
Congratulations Mayda!
Back to top