Michael Bedzyk
Professor / Joint with Materials Science; Co-Director, Northwestern Synchrotron Research Center
PhD, State University of New York at Albany, 1982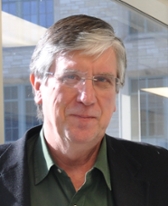 Professor Bedzyk and his research group develop novel X-ray probes for atomic-scale characterization of surfaces, interfaces, ultra-thin-films and nanostructures. In addition to using an in-house X-ray lab, they make extensive use of synchrotron X-ray facilities, where there is greatly enhanced chemical and structural sensitivity for studying systems as dilute as one-hundredth of an atomic monolayer.
Awards and Honors
Fellow, American Physical Society
1994 B. E. Warren Diffraction Physics Award, American Crystallographic Association
Selected Publications
S. Kewalramani, G.I. Guerrero-Garcia, L.M. Moreau, J.W. Zwanikken, C.A. Mirkin, M. Olvera de la Cruz, M.J. Bedzyk, "Electrolyte-Mediated Assembly of Charged Nanoparticles", ACS Central Sci2, 219-224  (2016)
M. K. Tiwari, G. Das, M. J. Bedzyk, "X-ray standing wave analysis of nanostructures using partially coherent radiation", Appl Phys Lett 107, (2015).
J. D. Emery, B. Detlefs, H. J. Karmel, L. O. Nyakiti, D. K. Gaskill, M. C. Hersam, J. Zegenhagen, M. J. Bedzyk, "Chemically Resolved Interface Structure of Epitaxial Graphene on SiC(0001)", Phys Rev Lett111, 215501 (2013).
C. Y. Leung, L. C. Palmer, S. Kewalramani, B. F. Qiao, S. I. Stupp, M. Olvera de la Cruz, M. J. Bedzyk, "Crystalline polymorphism induced by charge regulation in ionic membranes", Proc Nat Aca Sci 110, 16309-16314 (2013).
Z. X. Feng, A. Kazimirov, M. J. Bedzyk, "Atomic Imaging of Oxide-Supported Metallic Nanocrystals", ACS Nano5, 9755-9760 (2011).
Back to top