Claude-André Faucher-Giguère
Associate Professor
Ph.D, Harvard University, 2010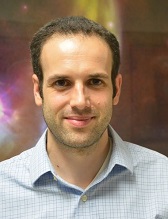 847-467-4647
1800 Sherman #8067
Prof. Claude-André Faucher-Giguère has broad interests in theoretical astrophysics and cosmology, with particular emphasis on galaxy formation and evolution. Faucher-Giguère's research focuses on understanding the multi-scale physical processes that govern galaxy formation in the cosmological context, including star formation, galaxy-black hole co-evolution, galactic dynamics, and connections with the intergalactic medium and cosmology. He uses a multi-pronged approach including: large-scale numerical simulations, analytic modeling, and comparisons with observational data.
Prof. Faucher-Giguère holds a courtesy appointment at Argonne National Laboratory, where he collaborates with the Cosmological Physics and Advanced Computing group. 
Awards and Honors
Scialog Fellow, 2019

Cottrell Scholar Award, 2018

NSF CAREER, 2017

NASA Einstein Fellow, 2013-2014

Miller Research Fellow, 2010-2013

Eric R. Keto Prize in Theoretical Astrophysics, 2010
Selected Publications
Stern, J., Faucher-Giguère, C.-A., Hennawi, J. F., Hafen, Z. H., Johnson, S. D., & Fielding, D. 2018, "Does circumgalactic OVI trace low-pressure gas beyond the accretion shock? Clues from HI and low-ion absorption, line kinematics, and dust extinction," ApJ, 865, 91.

Anglés-Alcázar, D., Faucher-Giguère, C.-A., Quataert, E., Hopkins, P. F., Feldmann, R., Torrey, P., Wetzel, A., & Keres, D. 2017, "Black Holes on FIRE: Stellar Feedback Limits Early Feeding of Galactic Nuclei,'' MNRAS Letters, 472, L109.

Faucher-Giguère, C.-A., Hopkins, P. F., Keres, D., Muratov, A., Quataert, E., & Murray, N. 2015, "Neutral Hydrogen in Galaxy Halos at the Peak of the Cosmic Star Formation History,'' MNRAS, 449, 987.

Faucher-Giguère, C.-A., Quataert, E., & Hopkins, P. F. 2013, "Feedback-Regulated Star Formation in Molecular Clouds and Galactic Discs," MNRAS, 433, 1970.

Faucher-Giguère, C.-A. & Quataert, E. 2012, "The Physics of Galactic Winds Driven by Active Galactic Nuclei," MNRAS, 425, 605.
Back to top