Patrick Krantz Earns PhD!
August 8, 2023
Congratulations to Dr. Patrick Krantz who completed his PhD in the Department of Physics and Astronomy in June.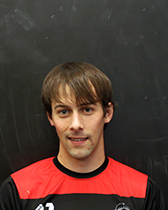 His thesis title: "Low Temperature Electrical Transport Behavior of AlOx / KTaO3 Based Two Dimensional Electron Gases"
Patrick's advisor is Professor Venkat Chandrasekhar.
Congratulations, Dr. Krantz! We wish you well in your future endeavors and know you will have great success.