Joseph McCourt Earns PhD!
August 16, 2023
Congratulations to Dr. Joseph McCourt who completed his PhD in the Department of Physics and Astronomy in June.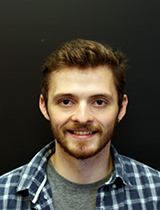 His thesis title: "Electrostatic Mechanisms of Shape Selection in Charged Chiral Molecular Assemblies"
Joseph's advisor is Professor Michael Bedzyk.
Congratulations, Dr. McCourt! We wish you well in your future endeavors and know you will have great success.