Jens Koch Named APS Fellow
October 23, 2023
Congratulations to Jens Koch who has been named an APS Fellow for providing theoretical and numerical frameworks for modern superconducting qubits, as well as pioneering contributions to circuit quantum electrodynamics and quantum optics!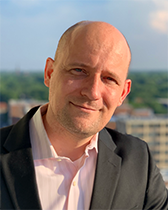 Jens was nominated by the Division of Quantum Information.
The APS Fellowship Program was created to recognize members who may have made advances in physics through original research and publication, or made significant innovative contributions in the application of physics to science and technology. Fellowship is a distinct honor signifying recognition by one's professional peers. Each year, no more than one half of one percent of the Society's membership is recognized by their peers for election to the status of Fellow of the American Physical Society.