Wen-Fai Fong Awarded Packard Fellowship
October 14, 2021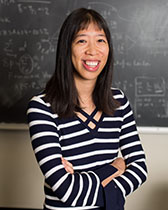 P&A faculty member Professor Wen-fai Fong has been awarded a prestigious Packard Fellowship. Professor Fong is one of only six Physics and Astronomy recipients of the twenty total Packard Fellows for 2021.
The Packard Fellowship is "among the nation's largest nongovernmental fellowships, designed to allow maximum flexibility in how the funding is used." The fellowship supports "blue-sky thinking," allowing recipients the freedom to make "new discoveries that improve people's lives and enhance our understanding of the universe."
The full list of 2021 Packard Fellows can be viewed here.
Congratulations, Wen-fai, on this outstanding achievement!
Back to top