P&A Welcomes Two New Faculty Members
May 26, 2021
The Department of Physics & Astronomy is excited to welcome two new faculty members this fall, Adam Miller and Jenna Smith.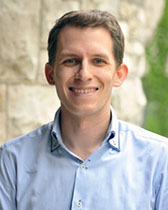 Professor Miller is currently a fellow at Northwestern's Center for Interdisciplinary Exploration and Research in Astrophysics (CIERA), working at the intersection of astronomy & astrophysics and data science. He is also the Director of the Large Synoptic Survey Telescope (LSSTC) Data Science Fellowship program. Professor Miller will begin in his new position as an Assistant Professor on September 1, 2021.



Professor Smith joins Northwestern from Pierce College where she currently serves as an Assistant Professor. At Northwestern, she will teach introductory physics courses in addition to assuming the role of Director of Introductory Physics Labs. Professor Smith will begin her new position as an Assistant Professor of Instruction on September 1, 2021.


Congratulations Professor Miller and Professor Smith on your new positions. We are very excited to have you!
Back to top