Anirudh Krovi obtains PhD
March 3, 2021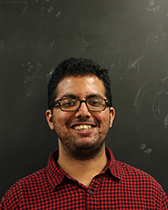 Congratulations Dr. Anirudh Krovi whose PhD thesis has just been accepted by The Graduate School!
On February 17, Anirudh defended his thesis Broadening Dark Matter Searches at the Large Hadron Collider. He was guided and advised by Prof. Ian Low, and his committee included Prof. André de Gouvêa and Prof. Kristian Hahn in addition to Prof. Low.
We wish Dr. Krovi all the best in his future endeavors!
Back to top