Anna Grassellino named Woman of the Year
December 14, 2020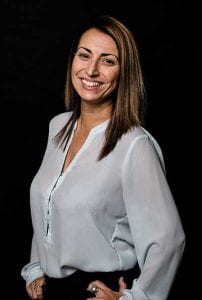 Anna Grassellino, a Fermilab Scientist who holds a joint appointment in Physics and Astronomy, has been named Woman of the Year by the Italian magazine D La Repubblica: La Donna Dell'Anno 2020 (in Italian).
Anna is Co-Director of CAPST (Center for Applied Physics and Superconducting Technology) together with Professor Jim Sauls. Recently, she led a multi-disciplinary and multi-institutional team to apply for a major grant proposal to establish SQMS (Superconducting Quantum Materials and Systems center). She and her team were successful and will receive $115M over five years. She serves as Director of SQMS, Jim Sauls as Deputy Director, and sixteen other Northwestern scientists are involved in the center. For more information, see the article posted by the Office for Research and the Fermilab announcement.

Anna is famous for her major discoveries in superconducting RF technology. She and her team have forged strong ties to research in P&A in a very short time.

"I'm so honored to be named Woman of the Year 2020 by D La Repubblica," Grassellino said. "2020 is the year that has brought more awareness in the world of the crucial importance of science as a beacon of hope for the future of our society. I hope to be a true testimonial of the importance of investing in science and innovation and to be of inspiration for all the young girls and women who aspire to have a career in STEM. My message to them is 'yes you can,' and that science is driven by creativity and thrives on diversity."

Congratulations Anna!
Back to top